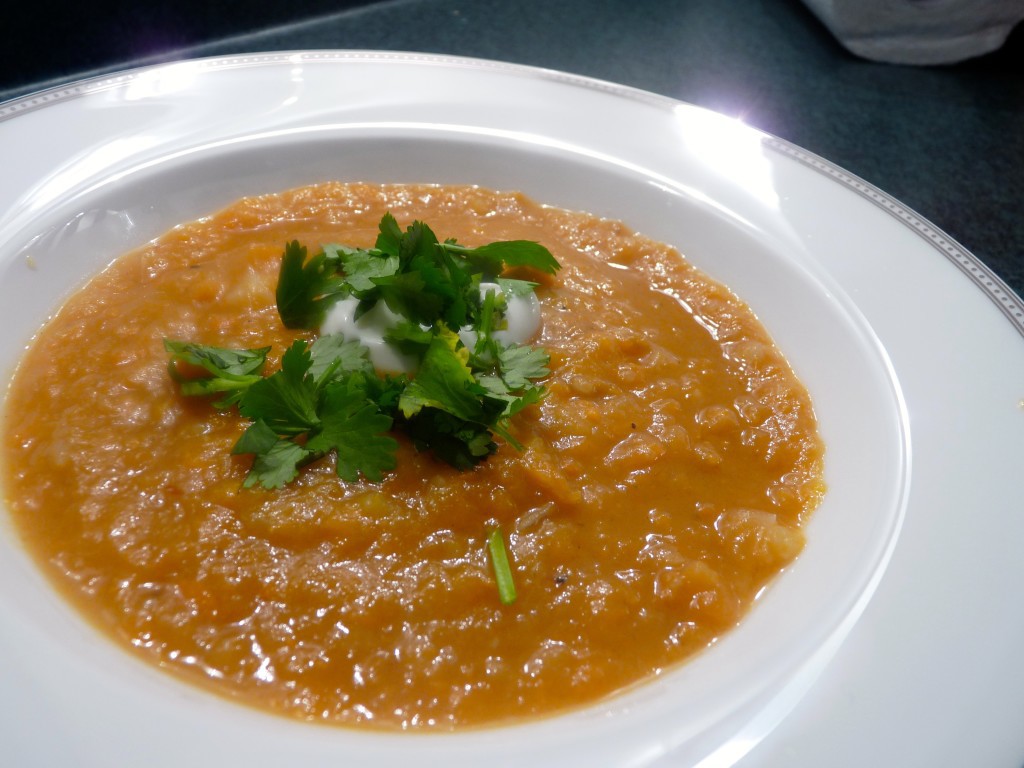 GUYS. THIS SOUP IS AMAZING. It is packed full of so many flavours that I didn't even know what to call it! Ginger-spiced sweet potato soup? Creamy peanut sweet potato soup? Sweet potato soup with ginger and peanut butter? Asian-style sweet-potato soup? There were too many choices, but I ended up settling for "Cream and Spiced Sweet Potato Soup"

We all know that sweet potato soup has long been a comforting classic for many people with it's smooth, velvety texture and creamy taste. I had sweet potato soup for the first time last year when Tim Horton's was selling a Sweet Potato Bisque… yeah, that stuff was gooooood… ?Anyways, they discontinued it after only one year which sucks for me because Tim Horton's soup is the bomb ??
Luckily, I have been looking for another sweet potato soup recipe and stumbled across this one from Allrecipes. The recipe takes a basic sweet potato soup and kicks it up a notch with some fresh ginger for spice, peanut butter for creaminess as well as other additions. I took some inspiration from this recipe and changed it to suit my tastes as well as the ingredients in my kitchen

I don't have an immersion blender so I use a potato masher to mash up the sweet potato soup. This results in a chunky but still tasty soup that will warm you up from head to toe! Serving this soup when someone is sick would be a good idea as well as the soup is loaded with vitamin A, vitamin C, vitamin B, fibre, antioxidants. Also, the ginger gives the soup a spicy kick so that you can sweat out all those toxins from your body!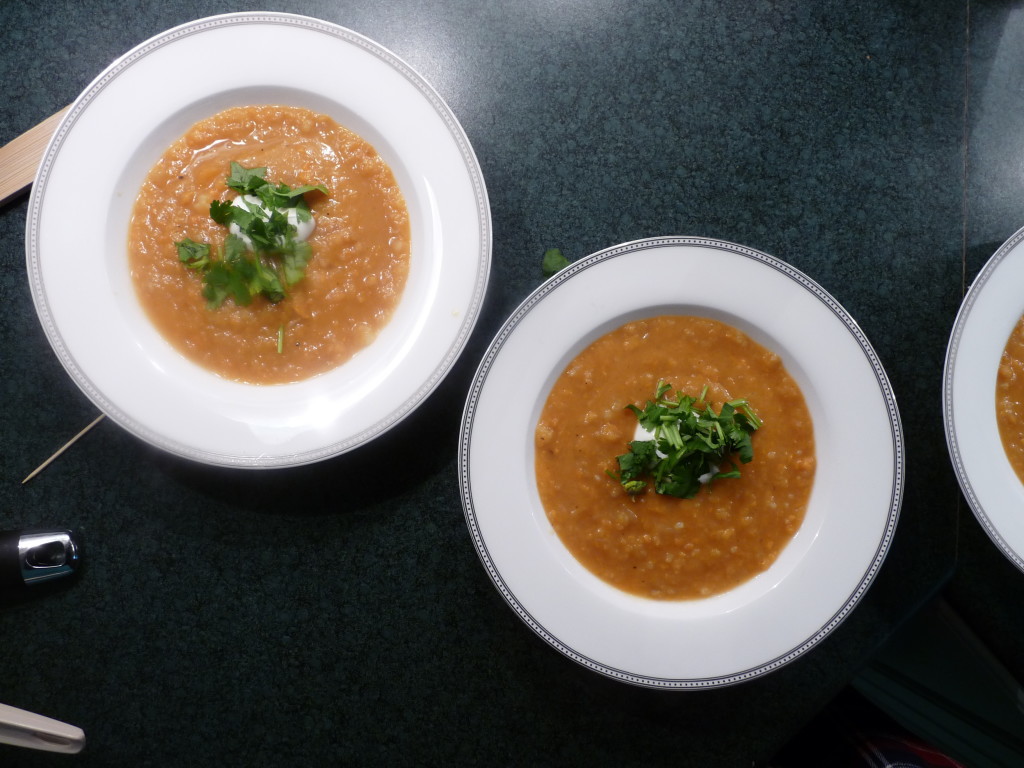 To make this soup a bit more fancy, I added a dollop of sour cream and sprinkled some chopped cilantro for garnish. Another yummy garnish idea would be green onions which also taste fantastic when used to garnish the soup. Please enjoy this recipe and tell me, what is your favorite soup recipe?
Happy Chewing ?

Creamy and Spiced Sweet Potato Soup
This is packed full of so many flavours that I didn't even know what to call it!
Ingredients
1 tablespoon butter or olive oil
1 onion, diced
3 cloves of garlic, minced
2 tablespoons ginger, minced
2 large sweet potatoes, peeled and cubed (about 4 cups)
900 ml chicken or vegetable stock
2-4 tbsp smooth peanut butter
Salt and pepper
Full-fat sour cream for garnish
freshly chopped cilantro for garnish
Instructions
Sauté onions, garlic and ginger in a large soup pot with the butter or olive oil for 5 minutes until they are translucent and softened. Add the sweet potatoes the and chicken stock, then bring to a boil. Once it boils, reduce the heat and simmer for about 20 minutes until the sweet potatoes are softened. Stir occasionally.
After 20 minutes, check the soup for seasoning, adding salt and pepper as needed. Take a potato masher to break up the sweet potatoes and release their starch into the soup. Turn off the heat once you have reached the desired consistency and stir peanut butter into the soup.
Serve this soup either plain or with a dollop of sour cream and cilantro.