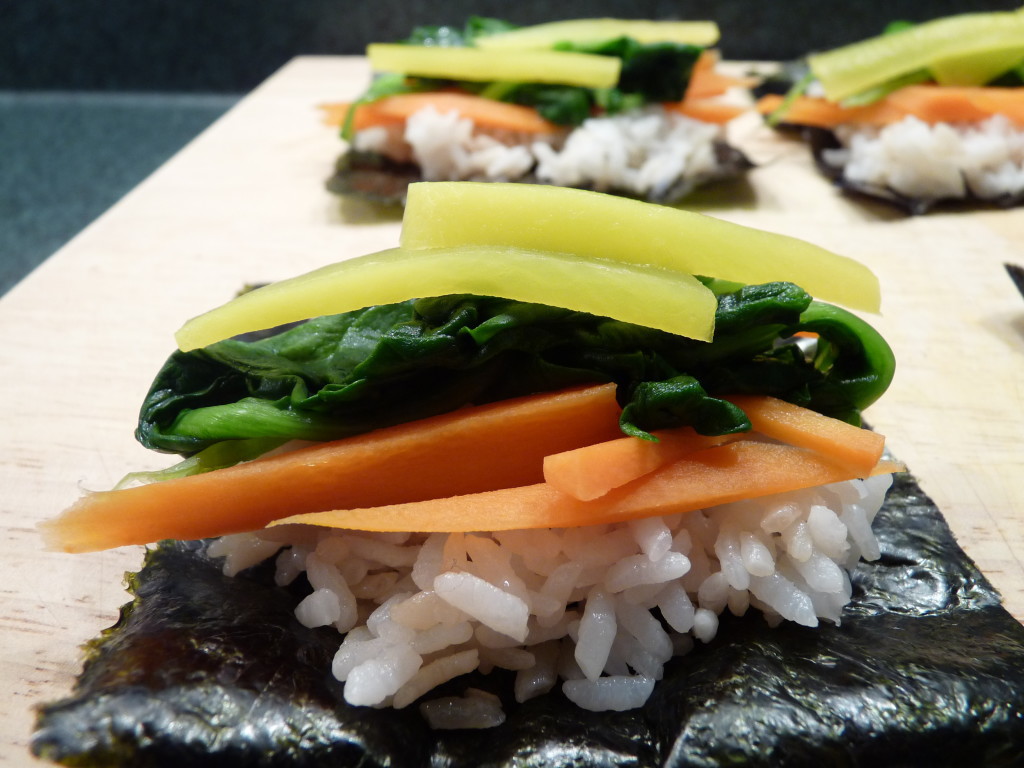 My sister has been a vegetarian for two years now, so there are lots of recipes she cannot eat. These Vegan Kimbap Rolls however, are not one of them. These healthy and colorful rolls are made with nori and seasoned rice, then filled with blanched spinach, carrots and oshinko.
There are so many variations on Kimbap (or Gimbap) because of the many different fillings you can put into the roll. Some other filling ideas for your Kimbap include kimchi, any cooked meat, eggs, other julienned veggies or even cheese! (Yes I know, cheese sounds weird, but it's good, trust me ?)
This is a fun recipe to make with the kids, as everyone can pick what they would like to fill their kimbap rolls with. Just think of it as a pizza party, but with kimbap.
Below, you will see that I chose to make smaller kimbap rolls that are easily rolled up for a snack or served in four or five to be a tasty lunch. A word of caution before we proceed with the recipe is that you must NOT overstuff these rolls, especially if you are making mini ones like I am. A surprisingly thin layer of rice and filling is all you need to roll up the kimbap. Overstuffing will result in kimbap that is impossible to hold together, making it difficult to eat.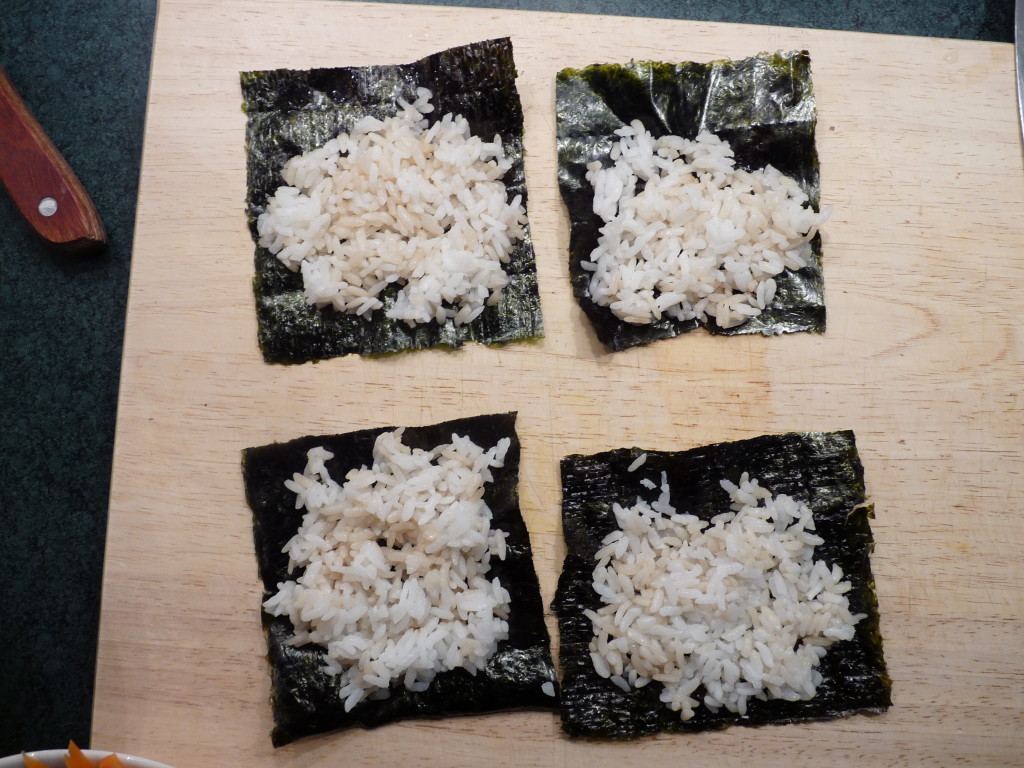 Alright, now that we've spent enough time talking about kimbap, let's get to the actual recipe! Remember, your imagination can take your meal from plain jane to mind-blowingly awesome, so don't be afraid to experiment and try to use exotic or new combinations of flavor 🙂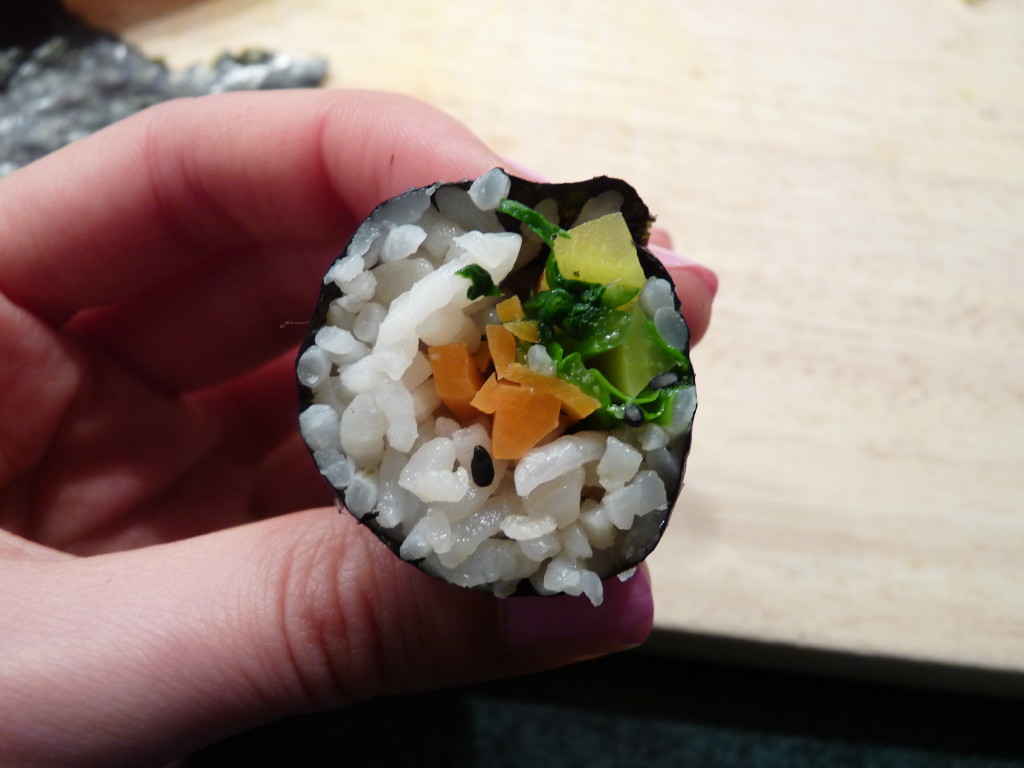 Happy chewing ?

Vegan Kimbap Roll Recipe
Ingredients
Nori sushi seaweed
Four cups of cooked, white rice
2 tbsp soy sauce
½ tbsp sugar
1 tbsp rice vinegar
Toasted sesame seeds
Two julienned carrots
One bunch of spinach
Oshinko, julienned
Sesame oil, optional
Any other fillings (meat, eggs, other veggies)
Instructions
Being a pot of salted water to a boil and blanch the carrots and spinach until crisp-tender.
In a medium bowl, season the rice with the soy sauce, sugar and rice vinegar. Adjust the seasoning to your taste and add toasted sesame seeds if you wish; mix well.
Lay out the nori sheet and place ¾-1 cup of the seasoned rice on it. Use a rice paddle or your fingers to spread it evenly over ⅔ or the nori sheet.
Place your desired fillings in the middle of where you put the rice, then roll up that puppy (carefully).
Once your kimbap is rolled, you can rub a small amount of sesame oil over the nori to give shine and flavor. Slice the kimbap into slices or eat like a burrito if you are like me 🙂
Notes
Filling amounts for kimbap are vague, as you can choose how much/little to add to your kimbap.